Recessed Lighting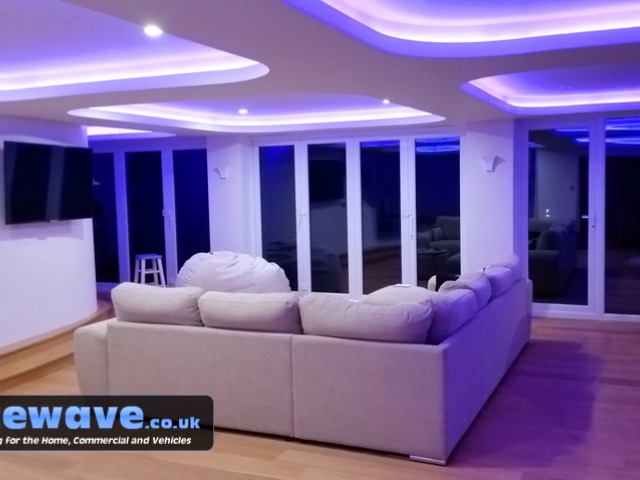 Many homes have Pelmets, Coving or Coffers. Create amazing colours by using our recessed lighting kits to wash light onto surrounding walls and ceiling.
Our Litewave ® Pro Recessed Lighting Kits are made-to-measure, designed for maximum performance, with a very long lifetime using Constant Current On-Board drive to protect the LEDs. They are not be confused with cheap alternatives, they won't look as good and will develop patches of different colours or dead spots. We are experts in this field of lighting, currently on our 7th generation. Most others on the market are using Strip Lights we were selling over 10 years ago.
Display any colour including White, Warm Whites, Pastels, and Vibrant Colours
In the past recessed lighting was achieved by using....(Continued below video)
Click Here for more information
More Information
.. Rope Lights, Fluorescent Tubes or Neons. Rope Lights create an uneven light and don't usually last very long. Fluorescent Tubes and Neons use a lot of power and are high voltage.
These days creating a wash of light onto the ceiling is easy to do by using our LED Strips in the recesses. Our LED Strips are low voltage, don't get hot, and have a long lifetime. We can supply them to the length required.
Even if you have a home with no pelmets or coving, that is no problem we can supply an Aluminium Profile that looks like a pelmet or coving, shown below. It is supplied primed and ready to paint.
Our Strip lights can be single colour such as white or warm white. Alternatively we can offer a colour changeable option which allows any colour to be displayed from pastels to vivid colours, to whites, and warm whites.
We have put together a selection of our LED products for recessed lighting including our high quality branded LED Strip Lights, see above. For long term lifetime and reliability they are the best choice. If you are on a budget we can supply our standard LED Strip.
You can control the lights by Remote Control if you don't want to control the lights from a Smartphone or Tablet. Simply select our ZEN Controller and Flexidriver.