UFO Kit - Additional Information
The UFO Tubes are engineered to withstand exposure to harsh environments. Multiple seals ensure that the internal electronics are fully protected inside their shatterproof polycarbonate extrusions. All electrical connections are made via a generous 4.2m (14') length of robust three-core cable.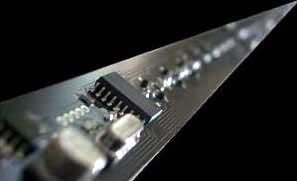 PIXEL STRUCTURE

The SMD LED's in each tube are arranged into separate pixels that can simultaneously display any of 2,097,152 different colours. Resolution enhancement technology employed by the UFO ECU multiplies the effective number of these pixels so that patterns run in a seamless fashion for incredibly fluid effects.
The digital technology used in each ICELED device allows all ICELED light sources to communicate with each other via a simple 3-wire connection. This opens up limitless possibilities when it comes to controlling the overall display. For example in the diagram below, the UFO Lighting Kit is also linked to an ICELED Matrix, the Matrix will copy and display the dominant colour being shown on the UFO Tubes, it can also be connected to display the last pixel of the Side Tubes. This is ideal if you want to continue the colours into the wheel arches of a vehicle, the Matrix is waterproof so is ideal for such an application.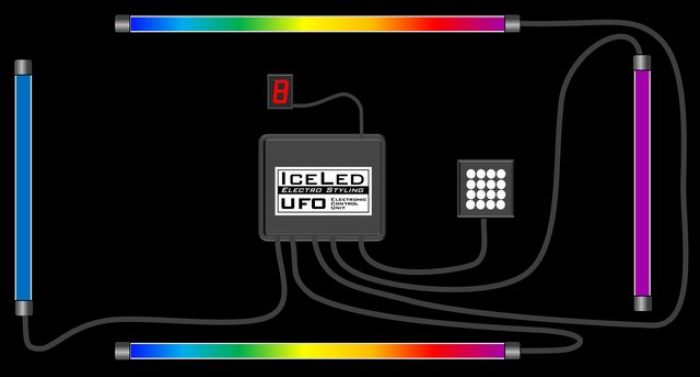 For control over light sources inside the car a ZEN Controller can be used alone or linked to the system and all the interior light sources connected to it such as the Matrix, shorter 1Ft Tubes, Gems, CoolFusion Fiber Optics etc. These can be independently controlled inside the vehicle from the external Tubes but will match Audio Responses and other external patterns and functions where required.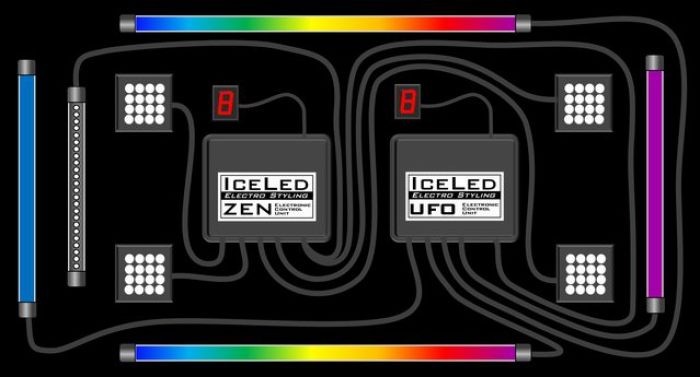 With this arrangement the lighting inside the car can be set to automatically harmonise with the patterns generated outside when UFO is switched on. Alternatively the Light Sources can run independantly on their own internal lighting control. For the capabilities of each individual light source see the separate specifications for each product or the summary in table below:
| | | | | |
| --- | --- | --- | --- | --- |
| Light Source | Standalone (Controller Required) | Data In | Max. Power | Waterproof |
| Matrix | Yes | Yes | 3w | Yes |
| Gem | Yes | Yes | 1.8w | No |
| Scanner | Yes | Yes | 7w | Yes |
| CoolFusion | No | Yes | 6.7w | Optional |
| 1Ft Tube | No | Yes | 3.6w | Yes |
| 2Ft Tube | No | Yes | 7.2w | Yes |
| 3Ft Tube | No | Yes | 10.8w | Yes |
| 4Ft Tube | No | Yes | 14.4w | Yes |