RGBW Strip Lights not necessary
Thu, 14 Mar 2019
RGB or Red, Green, and Blue LED Strip lights have been around since 2006. It is now several years since RGBW LED Strip Lights (Strips with RGB & White chip) were introduced from LED Strip Light manufacturers. Here at Litewave we have not gone with the trend, for several reasons:
RGB Strips used with the right colour controller can produce any visible colour from the spectrum. A good quality controller will have the ability to provide at least 128 levels of Red, 128 levels of Green, and 128 Levels of Blue. The majority of cheap Chinese colour controllers do not have the capacity for this. Our colour controllers are capable of displaying any visible colour.
The photo below clearly show that our Strip is capable of displaying Warm White
Think of colour TVs, with the exception of of a few types they have RGB Pixels, they can produce whites, warm whites, pastels and any colours between.
Below, another photo to prove RGBW Strips are not necessary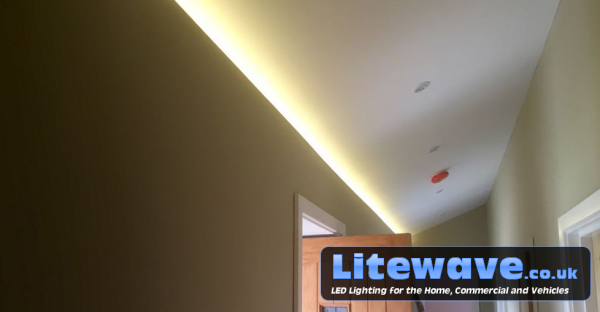 There are only a few good controllers that have RGBW capability.
There is very little perceivable it any difference to the colours show with our RGB Strips against RGBW Strips, in fact our Strips have much better colour consistency and brightness due to the built in constant current driving circuity.
Of much more importance is the quality of the Strip itself, most LED Strips have little in the way of protection for LEDs. Any LED Strip that only has resistors to regulate the voltage to the LEDs cannot compete with LED Strips that have an additional 130 component found on our Constant Current RGB LED Strips. This ensures long lifetime, even colour, and even brightness. Colours will not drop out, and the brightness will not fade as fast as standard resistor only LED Strip.
Buying LED Strips with just resistors when you want a long lifetime is a gamble. So if a long trouble-free lifetime is important to you we highly recommend purchasing our Constant Current LED Strip. We stock it in a range of types including, RGB Colour Changeable, White, Warm White, and Dot-less. It is also available in IP Rated Waterproof options.
Link to this article from your website
Link to this article:

Embed article link: (copy HTML code below):