Replacing your inefficient Halogen Downlights with LEDs
Our 10w and 13w Tiltable LED Downlights are designed to replace GU10 Halogen Downlights and the holders without needing any additional wiring or hole expanding. The LED Downlights include the complete fitting and adjustable gimble, allowing the lamp to fit into the existing holes.
The existing wiring can usually be connected directly to the driver that is included with the LED Downlights.
Below is a guide to illustrate how straight forward and little time it takes to replace your Halogen Downlights.
PLEASE NOTE: We advise using a qualified electrician to perform the installation.
Step 1: Make sure the Mains power to the lighting circuit has been switched off to avoid electric shock.
Step 2: Next the remove the Halogen Bulb, Holder, and Bracket. The cable that is connected into the terminal block of Halogen holder will need to be unscrewed to allow release of the fitting.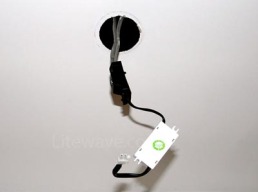 Step 3: The 2 mains wires that were connected to the Halogens can now be connected to the mains 240vAC input to the LED Transformer. The polarity should be observed making sure the live wire is connected to the live input on the LED Transformer and the remaining Neutral wire is connected to the Neutral input.
There will be 2 mains cables connected to the downlights that are to be followed by another this is the carry the voltage to the next downlight in the circuit.
Step 4: The LED Transformer can be put through the hole in the ceiling and set into place, the LED Downlight can then be fitted. Pull back the spring retaining clips and offer the fitting into place.
Step 5: Repeat Steps 2-5 for all the downlights being replaced within the circuit.
Step 6: Switch the Mains power to the lighting circuit back on and then switch the new LED Downlights on at the light switch.
It should take no longer than 5-10 minutes to completely replace each lamp.
Comparing Halogen Downlights to LED Downlights. The LED Downlights are around 30-35% brighter (with light meter) and use 80% less power which means your electricity will be reduced by 80%. The LEDs fitted in the kitchen shown below are our standard white but they are available in warm white to closely match the colour of the Halogens where required.