Dot-Free / Dotless LED 12vdc LED Strip with Ultra-Long lifetime
Tue, 07 Nov 2017
Our latest LED Light Strip is 24vdc with the LEDs so close together the strip can be used in any shallow profile for a Dot-Free, Fluorescent Tube appearance.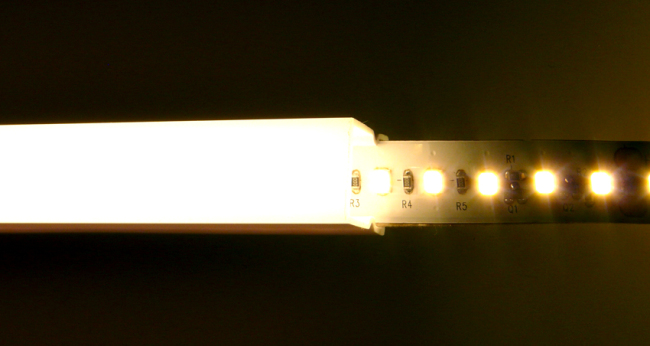 Unlike the majority of cheap unbranded LED Light Strips available, this Strip will not peak at 1000 hours and then begin to slowly fade, but will have continued brightness with a useable life of 50,000+ hours. This is made possible by the On-Board Transistors which regulate the current & voltage to the LEDs, cheaper strip only has Resistors which will not ensure a long lifetime. It has a 3 Year Domestic & Commercial use warranty included.
We have a range of Aluminium Profiles available to create fantastic architectural lighting effects in tiled floors, to outdoor walls, to shower cubicles.
Our Polycarbonate Profile is IP68 Rated making it the product of choice for bathroom installations. Simply slide the LED Strip inside the profile, fit the rubber end caps, sealing with silicone to ensure no water can enterthe Profile. Then connect to the appropriately rated 24vdc Power Supply (Transformer)
We offer a freemade-to-measure service. All cutting and soldering will be carried out by us, so when it arrives, it is ready to install.
Compatible with Lutron, Rako, Crestron, and Dali
Link to this article from your website
Link to this article:

Embed article link: (copy HTML code below):