LED Furniture Ilumination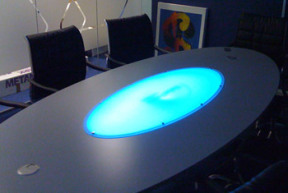 Another use for low power LEDs is to illuminate furniture.
Some of our customers have fitted low power LED products to chairs (video below), table tops, under beds etc.
Different LEDs will give different effects. The effect will depend on how close the LEDs are to the floor. The Superflux Modules on the Sofa (below) are very close to the floor so the light cannot disperse between the 80mm of wire between the modules which gives the effect of small concentrated pools of light. If the sofa was higher from the floor the light would appear continuous, the SMD Modules can be used which produce a much wider dispersion of Light.
If you want a continuous pool of uninterupted light close to the floor you could use either the Single Colour LED Tape, or RGB LED Tape (for colour changing), both LED Tapes have a wide dispersion of light resulting in a neon type glow under the furniture.
To keep things simple we have a arranged a small selection of LED products that are ideal for furniture lighting.
On each of the product pages, there are power supplies listed which plug-in to the wall socket, they convert the mains voltage into a safe low voltage of 12vdc.
Below: An upholstered Chair lit and Window Border lit with Colour Changing LED Tape.
The LED Tape can be left to change colour on it's own or with an additional controller you can edit the colours, change the speed, and even have a light show that changes colour or pulses to music.
Over 2 Million colours are possible, vivid or pastel shades.
The Controllers have been designed and built in the U.K using high quality components.